Lyon
New public meeting organised on September 21, 18h at MJC Laennec Mermoz to present the project progress.
First large-scale participative workcamp on the project site in Lyon 11-15 sept 2023
See the news on France 3 TV: Une yourte installée à Lyon pour une étude européenne sur l'intégration des exilés (francetvinfo.fr)
Read the article published in "Le progrès" on 17 september

The Foyer Notre-Dame des Sans-Abri, Quatorze, Université Jean Moulin Lyon 3 and Etre Eco Lié invited people to assemble the prefabricated yurt that will be a shared space open to local residents. It was also the opportunity to exchange ideas on living together and the city of tomorrow.
First newsletter of the COCON pilot spring 2023
24 June 2023
The representatives of Cocon Merging are organizing a public meeting on Saturday June 24 from 11 a.m. to 2 p.m. to inform neighbors and friends of the progress of the site.
The opportunity also for us to invite you to participate in the construction of the yurt which will take place soon.
Why insist on this element of the project?
The yurt will be the common area open to site residents and neighbors. It will allow access to activities for all, artistic performances, etc. Everything is to be written, and that is why we want to make this adventure a common story.In this sense, if from the beginning of the construction of the yurt, people wish to contribute, it will be a success.
We would love to have you with us. Don't forget to bring a picnic, and something to drink !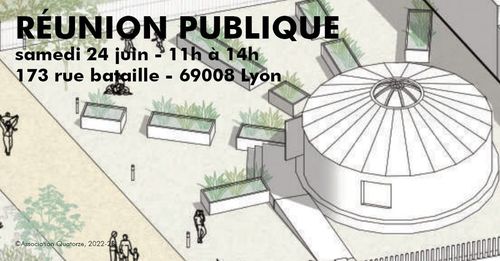 8 April 2023:
An educational and leisure day at the pilot site. UJML, Quatorze and le Foyer Notre Dame des sans Abris organised an egg hunt to create a link with the neighbourhood and to present the project, on Saturday 8 April.
See information in the local press:
https://c.leprogres.fr/culture-loisirs/2023/04/08/dans-le-quartier-de-mermoz-une-chasse-aux-oeufs-a-visee-pedagogique
https://c.leprogres.fr/science-et-technologie/2023/04/07/dans-le-quartier-de-mermoz-bientot-cinq-mini-maisons-sur-roues-accueilleront-des-refugies
| | |
| --- | --- |
| Catherine Mercier-Suissa, the project coordinator welcoming the participants | |
View of the place where the pilot will be implemented
Public meeting on November 18, 2022 organized by UJML, the Foyer Notre Dame des sans Abris and the town hall of the 8th arrondissement of Lyon to present the Co-Con project (for co-construction). The "Cocon Rue Bataille" is one of the 3 pilot sites of "MERGING". One of the innovative dimensions of this program lies in the participation of all in the development of spaces and the design of activities on the site.
The objective of the meeting was to present the project to the inhabitants to develop the project together.